DISTRICT COUNCIL 16 GIVES $200,000 FOR CANCER RESEARCH
Money Goes to Effective,
Ongoing Cancer Research and Treatment
By Robert Buscemi
The United Association Southern California Pipe Trades Council 16 presented the Mesothelioma Research Foundation of America with a check for $200,000 at the Council's annual holiday lunch.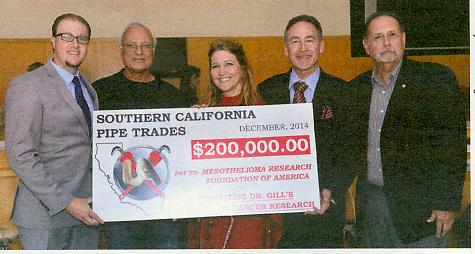 The money, all raised in 2014, will go toward a cure for mesothelioma, a cancer caused by exposure to asbestos. District Council 16 Director of Organizing John Ferruccio emceed the event December 12 at the Dodger Stadium Club. He held off announcing the impressive dollar figure until after the speeches, when a drum roll from the house band built the excitement.
"Every year, as you know, one of our main fundraisers is to find a cure for this unfortunate disease," Ferruccio told more than 150 attendees. "Mostly, mesothelioma is affecting our grandfathers, fathers and fathers-in-law. It's gotten a lot better over the years."
Ferruccio said the Council hosts an annual golf tournament and skeet-shooting events. In addition, the State Building and Construction Trade Council of California raises money through the annual Roger Hamilton golf invitational.
The foundation, known as MESORFA, was founded in 2001 by attorney Jerry Neil Paul, his wife Elizabeth Ann Paul and retired California Pipe Trades Representative and past Vice President of the State Building and Construction Trade Council, Jim Kellogg.
In thanking District Council 16, MESORFA Executive Director Elizabeth Paul explained that all funding goes toward research rather than administration.
"All of this money goes directly to fund a lab at USC Norris Comprehensive Cancer Center here in Los Angeles. We use 100 percent of every dollar donated toward research, for clinical trials and to fund the lab. Nothing goes for the foundation – those costs are privately underwritten."
Cancer Research Costs Millions
Paul said such research is never cheap, and other cancers get more attention and funding than mesothelioma, especially in a tight economy. Indeed, she said, MESORFA operates on a shoestring budget. "I know people don't understand that, but to bring a treatment to the public costs tens of millions of dollars."
As such, Paul said District Council 16's annual contribution is crucial.
"Everybody was extremely generous. Families took care of families. My husband Jerry and I are big on family. Your leaders at District Council 16 view your members as family. Because they have gone out of their way to make sure that there are treatments and cures for this horrible disease."
The disease hits especially hard at workers who have been exposed to asbestos, as many Pipe Trades and other Building Trades were before protections were put in place against the toxic substance. Even now, workers confront the hazard at some job sites.
Paul then introduced Dr. Parkash Gill, who reported that he has made huge strides at his lab through the development of Veglin, a drug that treats the disease.
"I'm honored to be part of it," Gill said. "It's a worthy cause. I'm a cancer research doctor, so finding a treatment for patients really is a rewarding experience. When somebody is ill and they get better and they go home and never see you again, it's wonderful."
Gill said that patients are already seeing positive results at treatment advances. He said certain efforts have been completely successful.
"This medicine, we have given to a 78-year-old patient. Two or three years out now, there's no cancer left and no side effects."