Southern California Pipe Trades District Council 16
2017 Holiday Luncheon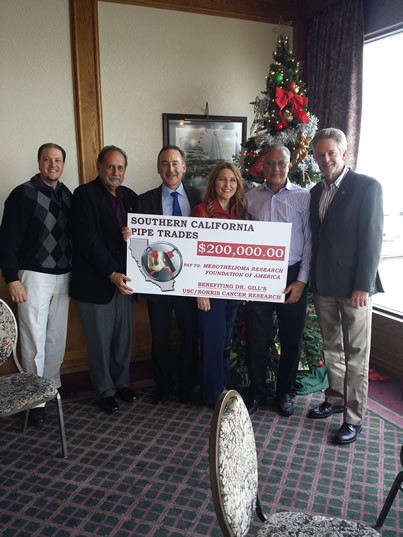 On December 6, 2016, the Southern California Pipe Trades District Council 16 held their annual holiday luncheon at The Reef restaurant in Long Beach. With DC16 Business Manager, Mike Layton, at the helm and Director of Organizing, John Ferruccio, running the show, the 14th Annual Alta Vista Golf Tournament and the Aim to Cure Moore & Moore Clay Shooting Events were once again smashing successes! Business managers, representatives and contractors were in attendance for the presentation of proceeds from all DC16 events held on behalf of the Mesothelioma Research Foundation of America.
The Foundation's Executive Director, Elizabeth Ann Paul, Board Member Jerry Neil Paul and Assistant Executive Director, Shane Rucker were on hand to watch John Ferruccio present Chairman of the Medical Advisory Board, Dr. Parkash Gill, the generous donation of $200,000.00!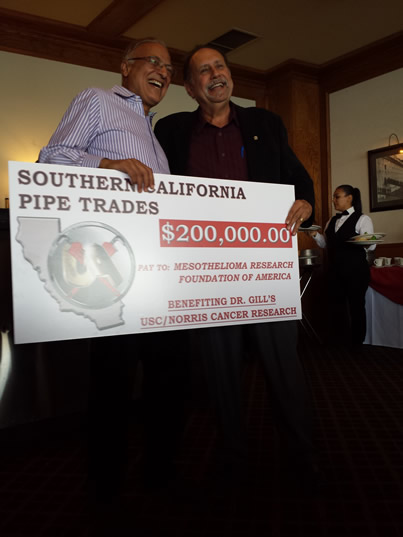 During the presentation, Mrs. Paul first spoke about the importance of the DC16 fundraising efforts to fund research on Eph-B4, the latest estimations for bringing a drug from conception to market, and the challenges of being an orphan cancer. Dr. Parkash Gill then highlighted the current development of Eph-B4 at USC Norris Comprehensive Cancer Center and the great hope it has given to patients actively participating in the clinical trials. Our hope is that one day Eph-B4 will be a standard treatment for those diagnosed with mesothelioma. We are so proud of the progress Dr. Gill has made and hope for continued success in the lab translating to successful patient outcomes.
Thank you Mike Layton and John Ferruccio, and the DC16 staff for all of your hard work and dedication to this cause that effects so many in the trade. They continue year after year to make these events both successful and fun while raising a significant amount of money! Thank you all!