Today's cancer cure researcher will frequently dig deep into the genetic makeup of the cancer disease to understand how it grows.  While in search for the most effective treatment to cure lung cancer and mesothelioma, and by genetically figuring that out, the researcher can stop the aggressive cancers by halting its growth.  Currently, Oncologists believe that a pair of microRNAs should be focused on for suppressing tumor growth in lung cancer.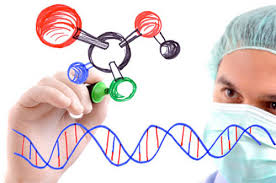 microRNAs, or miRNAs, are tiny molecules found within cells that serve a function in primary biological processes.  These processes include organ development, fat metabolism, and cell proliferation.  A person remains healthy when miRNAs are functioning properly.  And, miRNAs can inhibit tumor growth when used as a therapeutic agent.
While miRFAs let-7 and miR-34 are known to be effective individually at stopping cancer growth, researchers at the Cancer Center at Beth Israel Deaconess Medical Center (BIDMC) found that by combining these two molecules the pair are even more effective.
MicroRNA and Lung Cancer
Specifically, the miRNAs were unleashed on cancer pathways RAS and p53, two oncogenes, genes that have the potential to transform a cell into a cancer cell, known to lead to the aggressive growth of non-small cell lung cancer (NSCLC).  The resulting two-molecule agent was found to be safe and effective in a lung cancer mouse model and demonstrated efficacy showing survival advantage.
According to one of the authors, Frank Slack, PhD (Director of the Institute for RNA Medicine in BIDMC):   "We know that miRNAs target many oncogenes.  We, therefore, hypothesized that a combination of two miRNAs could similarly offset resistance.  We have performed these timely in vivo studies using a liposomal microRNA delivery agent already in clinical trials, which could accelerate the translation of this combinatorial miRNA therapeutic approach into the clinic."
Dr. Slack also said that currently there are no approved drugs that are effective for patients with RAS and p53 mutations. He mentioned reports that the K-RAS mutation is found in 25 percent of NSCLC patients while 50 percent are affected by the p53 mutation.
Pleural Mesothelioma
Pleural mesothelioma, an asbestos-caused cancer equally as aggressive as NSCLC, is diagnosed in close to 3,000 Americans each year.  And while microRNA research is focused on lung cancer, every new breakthrough in lung cancer research also brings new hope to patients with mesothelioma cancer.
The study was published in the Sept. 1 issue of Oncogene.
Related articles